We are supporting a community where thousands of people learn, share, and work together to pass their certification exam. We thrive on community collaboration to help us create online practice exams for certification preparation and self-assessment. We have learned the great lesson over the past few years that every candidate has the potential to become a Certified Professional, but not every candidate has the opportunity with proper resources and guidance. That is something we want to fix using our online practice exam platform, and we invite you to join us in doing so.
EDUSUM is a user-driven community dedicated to helping candidates become certified professionals. Thousands of domain experts from worldwide are contributing to this community and share the same objective of helping candidates by simulating actual exam environment and providing frequently asked questions. These domain experts regularly collect feedback from certified candidates and update practice questions to keep the practice exams most relevant and up to date.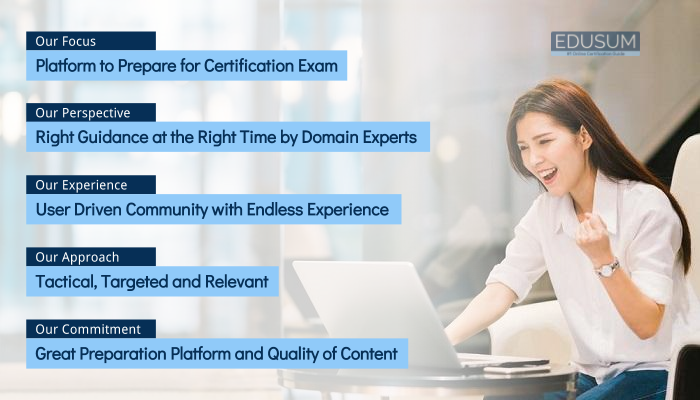 Our mission is to provide a simulated certification exam environment with quality content for anyone, anywhere. We offer practice exercises and a personalized result dashboard that empower learners to study at their own pace at any time. We do not offer any kind of certification exam dumps here and we do not support such method of preparation. We believe that the real value of becoming certified is in the process that you follow to prepare for the certification exam. Using certification dumps may or may not help you on the exam, but ultimately the use of these shortcuts will not make you a better technical professional.
Note: We do not offer any certification on this website. We provide an online platform to practice for the third party certification exam to evaluate your readiness and assess your subject knowledge; You are allowed to use these practice exams for evaluation purpose only. Our premium service does not guarantee you for passing any third party certification exam. However, your extensive preparation with our premium practice exam will boost your subject knowledge, and make you capable of clearing any third party certification exam.